Our Mission
The Lockside Art Center is a charitable organization that seeks to enhance the cultural and economic vitality of citizens of Western New York. We promote and encourage local, regional, and national artists by organizing gallery exhibits, having art dialogues, and providing a venue for their works. Believing that art is for everyone, we are dedicated to providing classes to the general public, to established artists and to school-aged students.
Our Story
What a jewel we have in Lowertown. Designated a National Historic District, this "village within a city", with its hillside cottages, handsome stone houses, churches, and warehouses, was once Lockport's social, commercial, and industrial center in its heyday of the 1830s-1860s. Now only remnants of Lowertown's industrial and commercial prominence remain, but residences and churches still stand proudly, overlooking the canal. Lowertown has escaped the disruption of the heavily-used automobile routes which converge on the upper part of town, and traffic on the canal has been taken over by pleasure boats on sunny summer days. A tranquil obscurity has fallen over one of the finest concentrations of early nineteenth century brick and stone architecture surviving in the state.
Anchoring this historic collection of structures on its western end is the 150-year-old building that formerly housed the Western Block Company, once the largest manufacturer of block and tackle in the country. Close proximity to the canal, a major shipping conduit, allowed easy access to major national and international ports. Western Block was a premier supplier of products used by the US Navy in shipbuilding and rigging for ships that travelled throughout the world. A seven story building in Chicago was moved using 72 blocks manufactured by Western Block.
This former factory was the first home to the Market Street Art Center. While transforming the building into several galleries, 20 art studios (supporting 30 artists), and a gift shop, care was taken to keep much of the "old factory" feel. Pipes, steel I-beams, stone and brick walls remain exposed. Many of the original molds built by Western Block employees are displayed throughout the center. Although completely different in temperament from the building's original intent, Market Street Art Center has succeeded in restoring and maintaining this historic structure while offering a viable art community to the residents of Lockport and Western New York.
The New location for the Lockside Art Center overlooks the Erie Canal at the Flight of Five Locks #67-71, in the Niagara section of the Canal. This area is a major part of the Lockport Locks Heritage District. We are close to many favorite Local Restaurants, Bakeries, Antique shops, and many other attractions.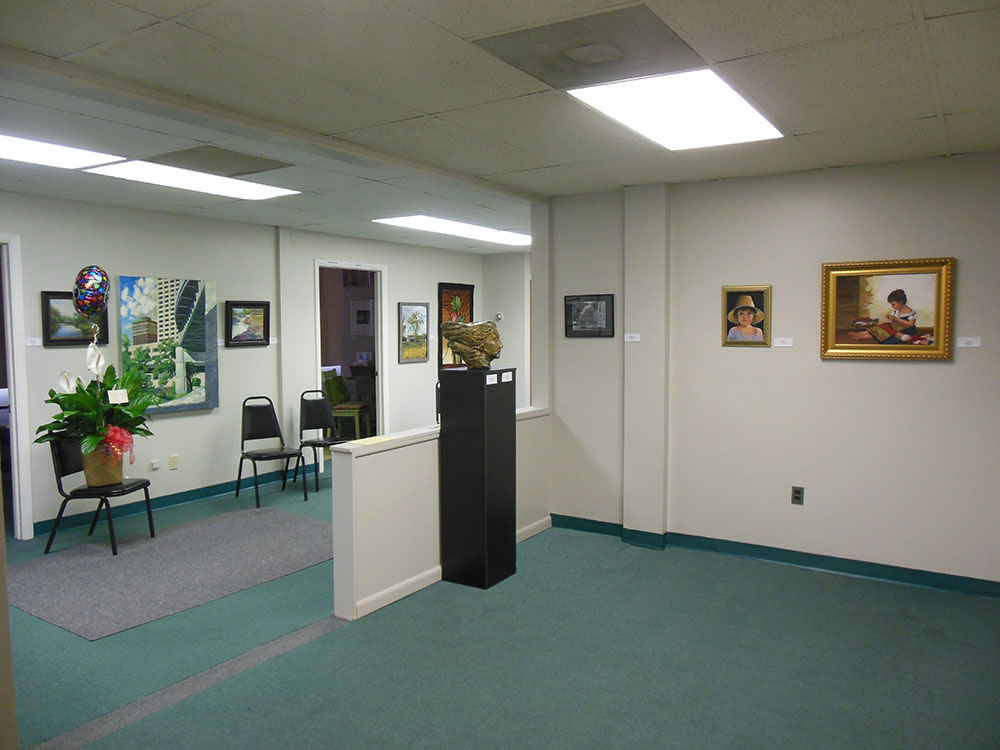 The Art Center provides a friendly atmosphere where regional artists can create and display their work. Artwork encompasses all media including watercolor, oil, pastels, acrylic, pencil, photography, portraits, pottery, jewelry, chainsaw sculpture, embroidery, quilting, leatherwork, fine furniture, printmaking, and puppetry. The center offers classes for children, adults, and special needs individuals. Art classes are conducted individually or for groups. Lockside Art Center artists travel to schools, 4H groups, and other organizations to give demonstrations and presentations. It is a place where the history of the past meets the art of the present and the potential of the future. So often we hear first-time visitors come in and exclaim, "I never knew this was in Lockport!" Let's get the word out about this hidden treasure.
come in and see our Gallery, Studios, Classroom, and Research Art Center! New artwork and shows will be displayed every month!